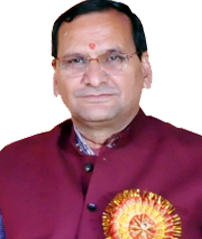 It is my pleasure to welcome you on behalf of the entire team of Manda Institute of Technology Society. Education in MITS means nurturing of humanity where young minds blossom to become flowers to spread their fragrance in the society .In the modern era Technical and Non Technical education have become mandatory to match the needs of competitive life and social styles. Keeping this in mind we at MITS campus continuously try to design our methods of teaching and learning to accommodate current trends and future needs.
MITS has been instituted to provide holistic education that emphasizes high academic and social standards, promote healthy life style, cultivate critical thinking, fosters scientific temper and instill desire for life long learning. Regardless of background of our students, we believe in cultivating unique strengths of each student. Our sincere efforts have always channelized to create technocrats of tomorrow's world. Today MITS has all capabilities of the best private institute of technology & Engineering studies in the country.
As the President of MITS, I would like to assure that being MITian you would be equipped with the qualified faculties and efficient administration to nurture your functional skills and qualities like self-discipline, emotional intelligence, constructive criticism, creativity and greater flexibility of mind.
I wish to extend my invitation to you alogn with my devoted team to visit us and experience personality what we have to offer you.